Clinical Pathology Laboratory
The specialist laboratory for veterinary medicine endocrinology, clinical chemistry, hematology ant cytology.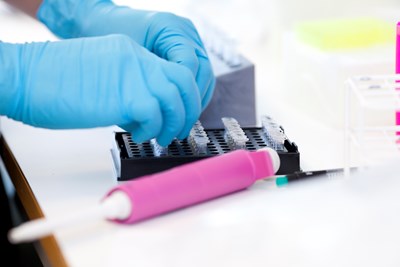 The Clinical Pathology Laboratory serves the University Animal Hospital (UDS), and samples are also submitted by mail, or delivered personally, by veterinarians from across the country. Other clients include researchers at the Swedish University of Agricultural Sciences (SLU) and other research centers as well as pharmaceutical companies.
The Clinical Pathology Laboratory provides a wide range of hematological, cytological, biochemical and endocrine testing. Samples from many animal species are evaluated and clients are offered advice on interpretation of test results. All hematological samples are evaluated with an advanced hematology analyzer, which provides extensive diagnostic information. Blood smears are reviewed microscopically by well-trained biomedical scientists (BMA) and, when indicated, cases are further assessed by a clinical pathologist. The diagnostic work and research performed at the Clinical Pathology Laboratory is an important part of the education of veterinary students and veterinarians undergoing specialist training in clinical pathology.
Contact information
Opening hours: Monday-Friday 8.00 am to 4.20 pm
Telephone: +46-18-671623
Fax: +46-18-672883

Veterinary consultation for clients:
Telephone: +46-18-671619
Veterinary staff:
Anna Hillström DVM, PhD, Dipl ECVCP
Ulrika Falkenö DVM, Dipl ECVCP
Emma Strage DVM, PhD, resident ECVCP
Harold Tvedten DVM, PhD, Dipl ACVP and Dipl ECVCP
Inger Lilliehöök DVM, PhD, Dipl ECVCP
Loading…